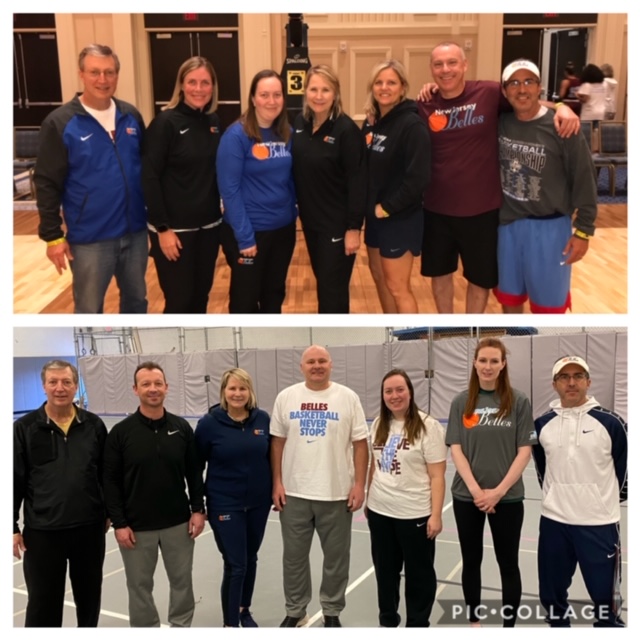 New Jersey Belles Coaching 

Team
U17 High School Teams
Joseph Fagan – Coach High School Team- Fagan
Cindy Fagan – Coach
High School Team
– Fagan
John Truhan – 
Coach
 High School Team- Truhan
John is an outstanding basketball mind and has tremendous desire to win.  He is an advocate of the Princeton style of play. His discipline and demanding of the players and staff thru motivational coaching works effectively under pressure which transpires to his successes on the court with all of his teams.
20009-2016:  Head Coach Central Regional Girls varsity High school Basketball Team
2004-2009: Head Coach Colts Neck Girls Varsity High School Basketball Team
1993-2003:  Head Coach Toms River High School South Girls Varsity Basketball Team
Conference Champions:  2001, 2002-undefeated, 2003, 2005, 2008, 2009-undefeated, 2011, 2012, 2014
Central Jersey Group IV: 2009, South Jersey III 2001
Ocean County Coach of the Year: 2001
Shore Conference Coach of the Year: 2001, 2008
Star Ledger NJ Coach of the year: 2009
Shore Conference Sportsmanship award: 2012, 2014
---
High School 2023 Team
Ellen Masonius  –  Director New Jersey Belles Program: Coach 2023 High School
Ellen Masonius  –  Director New Jersey Belles Program: Coach 2023 Team
Colleen Prior – Coach 2023 Team
Colleen is a current coach a Mid Monmouth where has been coaching since 2013. Colleen is a Spring Lake Mid Monmouth trustee (2016-present) and has thought mathematics at RBC (Red Bank Catholic HS) and RFH (Rumson Fair Haven HS) from 1997 to 2003. During that time she took on the following coaching positions:
1997-1999 RBC Assistant Girls Basketball Coach

1997-1999 RBC JV Softball Coach

1999-2003 RFH Freshman Girls Basketball Coach & Assistant Varsity Coach

1999-2002 RFH Varsity Softball Coach
Colleen played at basketball RBC and graduated 1993
---
2024 Team
Ali Napolitano – Coach 2024
---
8th Grade-2025 Teams
Bill Shaughnessy – Coach 2025 Team- White
Played football, basketball and baseball at Clifton High School in Clifton NJ

Football at Boston College 

1998-2002-Head Coach Girls Basketball at Colts Neck High School  

New Jersey Belles Coach, Travel Basketball Coach

Assistant Coach at Manasquan High School Girls Basketball
Glenn Jansen – Coach 2025 Team- Blue
Coach Glenn Jansen is in his third season as the Head Girls Basketball Coach at Donovan Catholic. In his first two seasons at his alma mater the Griffins posted back to back 21 win seasons and were co-divisional champs in 2017-2018. Previously he was the Head Girls Coach at Colts Neck High School for four seasons highlighted by the 2014 Central Jersey Group IV State Sectional Title. He spent the first ten years of  his coaching career as a boys assistant to Lou Piccola at Colts Neck.
---
7th Grade – 2026 Teams
Jenny Greene – Coach 2026 Team- White
Jenny is a middle school teacher in the Carteret School District. She is currently the Head Coach at Carteret Middle School and the Assistant Coach at Carteret High School. Jenny has been coaching travel basketball for 9 years, and she has been a New Jersey Belles coach since 2015. She believes in putting a major emphasis on fundamental skills, teamwork, and fun! 
Kathy Foos- Coach 2026 Team – White
Mike Iasparro
– Coach 2026 Team – Blue
Justin McGhee-
Coach 2026 Team – Blue
JT Truhan- Coach 2026 Team- Maroon/Navy
---
Mark Donnelly – Coach 2027 Team-White
Mark Donnelly has served as Head Coach and Assistant Coach for our 2025  and 2027 New Jersey Belles Teams and has been coaching travel and AAU youth basketball for almost 10 years. Mark played high school basketball at Red Bank Regional and college basketball at Davidson College.
Kat Ernst – Coach 2027 Team- Blue
---
Trainers/Skill Development
Bob Greene – New Jersey Belles Director of Skill Development
From 1992-1999, Coach Bob served as the Head Coach at St. Peter's New Brunswick Boys Varsity Basketball team.  While there, his team won over 160 games in 8 years, and in 1995, they won the Parochial B South State Championship. During his time coaching boys, he had 16 Division 1 and 2 players. In addition to helping his players continue their basketball careers, one of his players was a 1st round NBA draft pick.
Since his time at St. Peter's, Coach Bob has been training girls. He has been working with the program since 2012. During this time, he has helped develop 30 Division 1 scholarship players, all of whom had the desire to be great and the willingness to be coached!
Mike Rice – Skill Development
Coach Rice has 22 years of Division 1 coaching experience. He has coached at Rutgers, Robert Morris, Pittsburgh, St. Joes, Niagara, Chicago State, and Fordham and has been apart of producing over 30 NBA players. He is currently the Head Coach for the nationally recognized AAU program, Team Rio. 
Coach Mike Rice recently added 2 years Head Coach at the Patrick School where he won back to back Union Catholic Championship and The New Jersey State Tournament of the Champions, also known as the TOC.
Coach Rice coached from 2016 thru 2018 New Jersey Belles teams along with Ellen Masonius and has trained New Jersey Belles players for the last 3 years.  His part in the New Jersey Belles alumni is evident in the scholarships awarded to the first 3 graduating classes for the New Jersey Belles Program.
Coach Rice played collegiately at Fordham University and was a three year captain.   He is married to Kerry for 29 years. His son Michael, a Team Rio Alumni, is a graduate of Franklin and Marshall College and where he was member of the Men's Basketball Team. His daughter Katie, a New Jersey Belle Alumni, attending Lehigh University and a junior member of the Women's Basketball Team.