Ellen Clark Masonius
Founder and Director of The New Jersey RISE

A former Division 1 basketball player and coach, Ellen 

Masonius

combines the skills and expertise she has learned from being a two year captain on a nationally ranked basketball team with the marketing and recruiting skills provided in her education and her 5 year college coaching career post college graduation. She brings her acquired skills from the court and her basketball roots to give back in the form of the Director for the New Jersey Rise Organization. 
Her mission is to develop strong fundamentally sound basketball players through effective action and leadership building players character through life lessons in a team atmosphere. Witnessing young girls over the years become empowered females through the New Jersey Rise program has resulted in her first two graduating classes earning 8 full Division 1 scholarships to Schools as well as players continuing their college education at Elite Academic Institutions.
The New Jersey Rise program has graduated 11 players over the last 4 years.  Players are in multiple conferences throughout the northeast region gaining court time and success in their prospective programs.
Ellen's coaching combination at St. Catharine's Grammar School along with the New Jersey Rise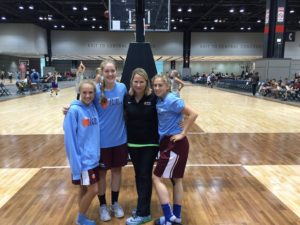 Travel Team enables her to "give back" to her players, through the acquired knowledge from great mentors over her 35 year of playing and coaching experience. As the New Jersey Rise Director, Ellen has developed the program which now has twelve teams representing the grades 5th thru 8th with four High School Elite teams. Her mentors include High School State Championship winning Coaches and NCAA National Championship winning College coaches who are still active today.
Ellen is the 1983 Kerwin Award recipient, The Margaret M. and James J. Kerwin awards are given each year to the outstanding male and female basketball players in the Jersey Shore. In that same year she was awarded the MVP in the New Jersey State All-Star game. Ellen reached the 1000 point mark on two occasions, first in 1979 at St. Catharine Grammar School and then again at St Rose High School. During her NCAA Intercollegiate years, her awards included the Unsung Hero Award 1987 and the All Time Assist Leader in that same year for the St. Joseph's University Basketball Team where she received a Bachelor of Science in Food Marketing.
A mother of five daughters and five sons, Ellen resides in Belmar, New Jersey with her husband, TJ of 31 years.